Announcement of International Solicitation of Design Schemes for Station-city-integration of Jiaxing High-Speed Rail New City

1. 项目概况
1. Project overview
面对长三角一体化上升为国家战略的契机,以打造长三角核心区枢纽型中心城市为总目标,全面对接全省"四大"建设,嘉兴市近期发布了《"枢纽嘉兴"建设大会战三年行动计划》,提出打造"轨道上的嘉兴"的目标。
Facing the opportunity of the national strategy "Yangtze River Delta integration rising", Jiaxing City has taken the construction of hub-type central city in the core area of the Yangtze River Delta as the general objective, strongly advocated the "Four Construction", released the Three-Year Action Plan for Construction of "Hub Jiaxing" and put forward the goal of building "Jiaxing on the track".

嘉兴南站高铁枢纽作为国家级铁路枢纽,是嘉兴市铁路客运系统中的主枢纽之一,也是《"枢纽嘉兴"建设大会战三年行动计划》中12个标志性交通项目之一。高速铁路站城一体、沪嘉城际轨道项目、通苏嘉甬高速铁路、有轨电车一期等工程列入近期实施工程。在最新编制的《嘉兴市国土空间总体规划》中,新城枢纽地区被定位为新的城市中心,与既有老城形成"双中心"发展格局。
As the national railway hub, Jiaxingnan Railway Station is one of the main hub in the railway passenger transport system of Jiaxing City as well as one of the 12 landmark traffic projects in the Three-Year Action Plan of "Hub Jiaxing" Construction Great Battle. The high-speed railway station-city-integration, Shanghai-Jiaxing intercity rail transit project, Nantong-Suzhou-Jiaxing-Ningbo High-speed Railway and tramcar Phase 1 are the projects to be implemented in the near future. In the latest Overall Planning for National Land Space of Jiaxing City, the hub area of the New City is positioned as the city center and will constitute a "double center" development pattern with the existing old urban area.

本次方案国际征集将秉持"站城一体化"的理念,坚持"世界眼光、国际标准、中国特色、高点定位"的要求,拟向国内外优秀设计机构征集具有前瞻性和创新性的站城一体概念方案设计。
This international collection of schemes will adhere to the idea of "station-city-integration", insist on the requirements of "world vision, international standard, Chinese characteristics and high-point positioning" and collect forward-looking and innovative station-city integration conceptual design schemes from excellent design institutions at home and abroad.

2. 项目区位
2. Project location
高铁新城位于嘉兴市嘉兴经济技术开发区(嘉兴国际商务区),以嘉兴高铁南站为核心,接轨G60科创走廊,是嘉兴市未来高水平发展、科创及公共服务能力最强的区域, 是嘉兴城市发展新的增长极,在打造长三角核心区枢纽型中心城市过程中,具有重要的战略地位。
High-Speed Rail New City is located in Jiaxing Economic and Technological Development Zone (Jiaxing International Business District), it takes Jiaxingnan Railway Station as the core, connected with G60 Science and Technology Innovation Corridor and will become the powerful area of high-level development, science and technology innovation and public service as well as the new growth pole of urban development in the future. Therefore, it has an important strategic position in the process of building a hub central city in the core area of Yangtze River Delta.

根据国家铁路、城际轨道和城市轨道相关规划,高铁新城枢纽(嘉兴南站)在既有沪昆高铁(又称沪杭客专)基础上,规划引入通苏嘉甬铁路、沪乍杭铁路、沪杭城际铁路、嘉湖城际铁路4条铁路和轨道1号线、2号线、沪嘉城际线3条城市轨道。与其他城市公共配套设施、城市道路、慢行系统一同构筑城市空间,打造站城融合,土地高度复合利用的一体化综合交通枢纽,成为嘉兴最重要的对外交通门户和城市活力中心。
According to correlative plans of national railway, intercity rail and urban railway planning, the New High-speed Railway Hub (Jiaxingnan Railway Station), based on the existing Hukun High-speed Railway (also known as the Huhang Passenger Railway), is planned to introduce four urban tracks, namely Sujiayong Railway, Huzhahang Railway, Huhang Intercity Railway, Jiahu Intercity Railway, and three urban railways, namely Railway No.1, No.2 and Hujia Intercity Railway. It builds an urban space together with other urban public facilities, urban roads, and slow-moving systems, building a station-city integrated and land highly utilized integrated transportation hub. It will become the most important external traffic gateway and urban vitality center of Jiaxing.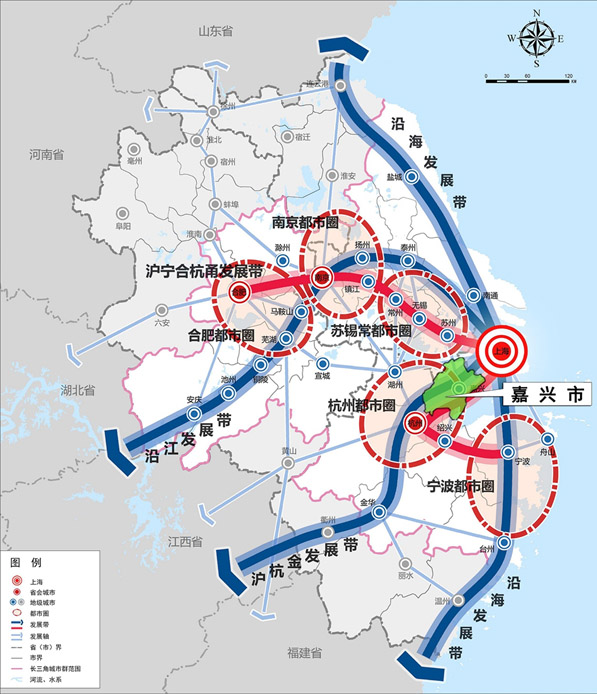 图 1嘉兴市区位示意图
Figure 1 Locational diagram of Jiaxing City


图 2高铁新城区位示意图
Figure 2 Locational diagram of High-Speed Rail New City



3. 征集目的
3. Purpose of solicitation
本次方案征集活动旨在向国内外设计机构征集具有前瞻性、创新性、可实施的站城一体化的设计理念和解决方案。通过借鉴国内、国际最先进的发展、规划、建设、运营理念,展现江南水乡与枢纽城市魅力,打造高效便捷的综合交通枢纽、站城高度融合的示范工程、嘉兴新城市中心的门户地标、城市未来生活的典范城区。
The scheme solicitation is aimed at soliciting prospective, innovative and implementable integrated station-city-integration design concepts and solutions from domestic and foreign design institutions. By drawing lessons from the most advanced development, planning, construction and operation concepts at home and abroad, this project will show the charm of Jiangnan Watertown and hub city, and create an efficient and convenient comprehensive transportation hub, a demonstration project highly integrated with station city, a gateway landmark of Jiaxing New City center and a model city for future urban life.

本次方案征集的成果需满足对枢纽工程可行性研究的支撑作用和指导意义,有效指导新城实施建设。
The results of this scheme solicitation shall meet the supporting role and guiding significance of the feasibility study of hub project, effectively guiding the implementation and construction of the new town.

4. 设计内容
4. Design contents
本次方案征集包括以下两个层面:
The scheme solicitation includes the following two levels:

4.1. 站城一体区域建筑概念设计
4.1 Construction conceptual design of "station-city-integration" area

建筑概念方案设计范围,如图红色线所示,北至南郊河南、南至镇北路、西至双溪路、东至庆丰路、嘉南大道,规划用地面积约1.38平方公里。(如果必要,则不限于此范围)。
The design scope of construction conceptual scheme is shown as the red line in above figure: as far north as Henan, south as Zhenbei Road, west as Shuangxi Road and east as Qingfeng Road and Jianan Road, with the total area of about 1.38 square kilometers. (If necessary, not limited to this scope).

应征单位应广泛借鉴高铁枢纽周边城市开发的成功经验,提出具有嘉兴特点的高铁枢纽站城一体设计理念,提出站房/雨棚上盖物业的方案,研究站城一体与其他地块的衔接关系,从地块开发、功能组织、交通流线、地下空间、三维空间形态、建筑形象、景观与重要节点等方面对枢纽片区开展建筑概念方案设计,实现片区功能、交通与风貌形象的一体化,并提出分期开发方案。
According to the successful development experience of surrounding cities, the applicant puts forward the design idea of Jiaxing-featured station-city-integration, builds superstructures on the station buildings/canopies, studies the cohesive relations between station-city-integration and other plots, carries out construction conceptual scheme design on the hub area based on the plot development, functional organization, traffic flow, underground space, three-dimensional spatial form, building images, landscape and important nodes, realizes integration of regional functions, traffic and style and proposes the phased development scheme.

4.2. 协调区城市设计深化
4.2 Urban design development in coordination area

协调区城市设计范围,如图白色线所示,北至三环南路、南至乍嘉苏高速、西至海盐塘、东至嘉南大道、东余公路,规划用地面积约16.21平方公里(如果必要,则不限于此范围)。
The urban design scope of coordination area is shown as the white line in above figure: as far north as Sanhuan South Road, south as Jiaxing-Suzhou Highway, west as Haiyantang River and east as Jianan Road and Dongyu Road with the area of about 16.21 square kilometers (not limited to the scope if necessary).

围绕站城一体区域的设计目标和设计原则,对地区的功能布局、开发规模、空间形态、综合交通、公共空间与景观等方面进行整体构思和衔接阐述,形成与周边片区开发功能互动、空间融合、环境协调的整体空间布局。体现与核心区规划的协调性和互动性。并配合枢纽的建设时序,提出可操作、可实施的开发建议。
According to the design objective and principle of the station-city-integration area, the coordination area carries out overall conception and cohesion description on the functional layout, development scale, spatial form, comprehensive transportation, public space and landscape, and forms an overall spatial layout of development function interaction, space integration and environment coordination with the surrounding areas; This reflects the coordination and interaction with core area planning. and proposes the feasible development suggestions according to the construction time and sequence of hub.


图 3设计范围示意图
Figure 3 Schematic diagram of design scope



5. 征集规则
5. Solicitation rules
本次征集包括报名及资格预审、概念方案竞赛及评审两个阶段。
The solicitation consists of two stages: registration and pre-qualification, concept competition and evaluation.

5.1. 第一阶段:报名及资格预审
5.1 Phase I: Application and prequalification

由主办方组建资格预审评审委员会,对应征人所提交的有效资格预审申请文件进行评审,采用记名投票、逐轮票决等方式推荐 5 家递交资格预审文件的单位作为入围单位。通过资格预审的 5 家入围应征申请人应按时提交《参赛确认函》。如前 5 家入围单位中有退出第二阶段竞标的,则备选单位依序替补。
A prequalification review committee is formed by the sponsor to review the valid prequalification application documents submitted by the applicant. By disclosed ballot and round by round voting, 5 units submitting prequalification documents will be recommended as the finalists. 5 applicants who have passed the prequalification should submit the Participation Confirmation Letter on time. If the first 5 finalists withdraw from the second-stage bidding, the alternative units will replace it in sequence.

5.2. 第二阶段:概念方案竞赛及评审
5.2 Phase II: Competition and review of conceptual scheme

经资格预审入围的5家设计单位直接进入第二阶段方案设计竞标阶段。应征人提交符合技术任务书要求的成果文件。评标过程需应征人项目负责人或主创设计师对应征方案进行介绍及答辩,讲解设计理念,回答评标委员会提问。主办方依法组建专家评审委员会,采用记名投票、逐轮票决等方式进行评审,评选出前三名为竞赛候选方案,并推荐给主办方。评审委员会对前三名竞赛候选方案提出评审意见,由主办方综合各种因素确定最终优胜方案。经后期谈判后,最终优胜方案优先进入下一步方案深化阶段。每家应征人只允许提交一个设计方案。
The 5 design units who have passed the prequalification will directly enter the second stage of the scheme design bidding stage. The applicant shall submit the result documents conforming to the requirements of the technical specification. The bidding evaluation process requires the applicant's project leader or chief designer to introduce and defend the application scheme, explain the design concept, and answer the questions of the bid evaluation committee. The sponsor shall establish an expert evaluation committee in accordance with the law, which shall evaluate the top three candidates by disclosed ballot and round by round voting and recommend them to the sponsor. The evaluation committee shall give the evaluation opinions on schemes of top three candidates, and the sponsor shall determine the final superior scheme based on various factors. After the later negotiation, the final superior scheme has priority to enter the next scheme in-depth stage. Each applicant is allowed to submit only one design scheme.

6. 组织流程
6. Organizational process
6.1. 第一阶段:报名及资格预审
6.1 Phase I: Application and prequalification

2020年07月28日 发布资格预审公告
July 28, 2020, issue the Prequalification Notice
2020年07月31日 答疑截止
July 31, 2020, cut off question answering
2020年08月03日 正式发布答疑
August 3, 2020, formally issue the question answering.
2020年08月05日17:00之前,设计机构发送报名资料至电子邮箱,报名截止
Before August 5, 2020 17:00, the design institution shall send the application materials to email box, registration closed.
2020年08月07日17:00之前,设计机构递交纸质文件
Before August 07, 2020, 17:00, the design institution shall submit paper documents.
2020年08月09日 召开资格预审会选取入围单位
August 09, 2020, hold the prequalification meeting to select the shortlisted units.
2020年08月10日 发布入围通知书
August 10, 2020, issue the shortlist notification.

6.2. 第二阶段:概念方案竞赛及评审
6.2 Phase II: Competition and review of conceptual scheme

2020年08月10日 发布竞赛阶段设计任务书,同时组织踏勘、技术交流
August 10, 2020, issue the design specification of the competition stage, and organize reconnaissance and technical exchange.
2020年08月15日 答疑截止
August 15, 2020, cut off question answering
2020年08月20日 正式发布答疑
August 20, 2020, formally issue the question answering.
2020年09月20日 中期成果答疑或交流
September 20, 2020, answering or exchange of interim results
2020年10月15日 应征人递交成果文件
October 15, 2020, the applicant shall submit the outcome document
2020年10月18日 方案评审会,需述标及答辩
October 18, 2020, the scheme review meeting, bid specification and reply shall be carried out.
2020年10月20日 定标并结果公布
October 20, 2020, announce the bidding results.
☆所有时间均以北京时间为准,组织机构保留调整日程安排的权利。
☆ All the time shall be subject to Beijing Time. The organizer reserves the right to adjust the schedule.

7. 报名要求
7. Registration requirements
7.1. 应征申请人(以下简称"申请人")应为合法注册的法人实体或由合法注册的法人实体组成的项目联合体。
7.1 The bid applicant ("applicant") shall be a legally registered legal entity or a scheme consortium composed legally registered legal entities.
7.2. 申请人应具有承担本城市设计和建筑设计项目的相关资格及能力
7.2 The applicant should have the relevant qualifications and abilities to undertake the urban design and architectural design projects.
(1)中华人民共和国境内的应征申请人提供能证明其具有承担城市设计的专业技术能力的证明材料,如城乡规划编制资质证书、外商投资企业城市规划服务资格证书、建筑行业(建筑工程)设计甲级及以上的资质证书或城市设计的委托合同等;
(1) The applicants in the People's Republic of China shall provide materials that can prove its professional and technical ability to undertake urban design, for example, the qualification certificate for urban and rural planning, the qualification certificate of urban planning service for foreign-invested enterprises, the Class A and above qualification certificate in construction industry (construction engineering) design or the commission contract of urban design, etc.;

(2)中华人民共和国境外的规划设计机构须依本国或本地区的管理规定具有城市规划或建筑设计的执业许可或经营许可。若依该国或该地区有关城市规划和建筑设计从业或营业的管理规定城市规划或建筑设计企业法人应具有相应执业资质或资格或营业许可,则需提供该机构的相应资质或资格或营业许可证明文件;若依该国或该地区有关规划、建筑设计从业或营业的管理规定,不要求城市规划或建筑设计企业法人具有相应执业资质或资格或营业许可,仅对规划师、建筑师个人要求具有相应资质或资格或执业许可,则需提供该机构的规划师、建筑师本人的注册或执业证书或会员证明材料,同时设计机构应说明该国或该地区有关规划和建筑设计从业或营业的管理规定。港澳台设计机构的资格要求参照境外设计机构资格要求的规定。
(2) Planning and design institutions outside the People's Republic of China shall, in accordance with the administrative regulations of their own country or region, have the practice license or business license for urban planning or architectural design. If, in accordance with the regulations governing the practice or business of urban planning and architectural design in that country or region, business entities for urban planning or architectural design shall have corresponding professional qualification or qualification or business license, the corresponding documentary evidence shall be provided. If, in accordance with the regulations governing the practice or business of urban planning and architectural design in that country or region, individual planners and architects but not business entities for urban planning or architectural design are required to have corresponding professional qualification or qualification or business license, registration or practicing certificate or membership certificate of planners and architects in such entities shall be provided, meanwhile, the design institution shall state the regulations governing the practice or business of planning and architectural design in that country or region. The qualification requirements of Hong Kong, Macao and Taiwan design institutions shall refer to the qualification requirements of overseas design institutions.

(3)应征申请人应有与本项目的功能性质相类似的城市、建筑设计经验。
(3) The bid applicant shall have experience in urban and architectural design similar to the functional nature of the project.

7.3. 本项目接受联合体申请,联合体的成员机构不得超过4家
7.3 The project accepts the application of the consortium, with the its number of member institutions not exceeding 4.

(1)联合体的各成员应共同签署一份联合体协议;
(1) The members of the consortium shall jointly sign an association agreement;

(2)组成项目联合体的各成员单位不得再以自己的名义单独申请资格预审,也不得同时加入本项目其它联合体申请资格预审;
(2) Each member unit that forms a project consortium shall not apply for prequalification in its own name, nor shall it join any other consortium in this project at the same time;

(3)若联合体均由境内设计机构组成,则需满足7.2(1)项要求;若联合体由境内、外设计机构(包括港澳台地区)组成,则境内机构须至少满足7.2(1)项其中一项资质要求,境外机构(包括港澳台地区)需满足7.2(2)项要求。
(3) The consortium composed of domestic design institutions shall meet the requirements in 7.2 (1); If the consortium consists of domestic and foreign design institutions (including Hong Kong, Macao and Taiwan), the domestic institution shall meet at least one of the qualification requirements in Item 7.2 (1), and the overseas institution (including Hong Kong, Macao and Taiwan) shall meet those in Item 7.2 (2).

注:1、法定代表人为同一个人的两个及两个以上法人,母公司、全资子公司及其控股公司,不得同时参加本次国际征集活动; 2、已报名的设计机构不可再与其他机构组成联合体参加本次国际征集活动,也不得以顾问的形式参加。3、本项目不接受个人及个人组合报名。
Note: 1. Two or more legal persons of the same person, parent company, wholly-owned subsidiary and its holding company shall not participate in the international solicitation at the same time. 2. The registered design institutions shall not form a consortium with other organizations to participate in the international solicitation, nor shall it participate in the form of consultants. 3. The project does not accept application from individual or individual combination.

7.4. 报名方式及资料获取
7.4 Registration way and information acquisition

征集公告发布及资料获取平台:
Solicitation announcement release and data acquisition platform:
中国城市科学研究会官网:http://www.chinasus.org/
Architectural Society of China website:http://www.chinasus.org/
中国城市规划学会官网:http://www.planning.org.cn/
Urban Planning Society of China:http://www.planning.org.cn/
中国建筑学会官网:http://www.chinaasc.org/
The Architectural Society of China:http://www.chinaasc.org/
ABBS建筑论坛:http://www.abbs.com.cn/
Architecture bbs:http://www.abbs.com.cn/
嘉兴经济技术开发区(嘉兴国际商务区)官方网站:http://jxedz.jiaxing.gov.cn/
Jiaxing Economic and Technological Development Zone Official website:http://jxedz.jiaxing.gov.cn/

有意向参与本项目的设计机构首先以电子邮件方式向组织咨询服务单位发送报名表及其他报名资料。此外,设计机构需将纸质版报名文件在规定日期前送达或邮寄至主办单位处。
Design institutions interested in participating in this project can first send the application form and other application materials to the organization and consulting service unit by E-mail. In addition, the design institution should send the paper application document to the sponsor before the date required.
报名咨询:马女士 13051910687
Registration consultation: Ms Ma: 13051910687
报名邮箱:futureurban@126.com
Application e-mail: futureurban@126.com
报名资料邮寄信息:浙江省嘉兴市南湖区槜李路1818号国际金融广场 B 座 7 F 邮政编码314001
Registration materials mailing information: 7F, Building B, International Finance Plaza, 1818 Zuili Road, Nanhu Lake, Jiaxing City, Zhejiang Province 314001.

8. 设计补偿费
8. Design compensation
通过资格预审的设计机构提交的设计成果经过专家评审和定标后,符合设计要求的可依据其排名将获得如下方案征集费用:
After the design results submitted by the prequalified design institutions have been reviewed and calibrated by experts, those meeting the design requirements will receive the following scheme solicitation fees according to their ranking:
一等奖(1名):可获得补偿费人民币400万元整,含后续成果整合深化工作坊组织费用(不超过3次);
The first prize (1): The compensation fee can be RMB 4 million yuan only, including the organization fee of follow-up workshop for integration and deepening (no more than 3 times);
二等奖(2名):分别获得补偿费人民币300万元整;
The second prize (2): The compensation will be RMB 3 million yuan respectively;
三等奖(2名):分别获得补偿费人民币220万元整。
The three prize (2): The compensation will be RMB 2.2 million yuan respectively.

9. 组织机构
9. Organizer
组织单位:嘉兴市人民政府
Organization unit: Jiaxing People's Government
主办单位:嘉兴市自然资源和规划局、嘉兴经济技术开发区(嘉兴国际商务区)、嘉兴市发展和改革委员会、南湖区人民政府、嘉兴市住房和城乡建设局、嘉兴市交通运输局
Sponsor: Jiaxing Natural Resources and Planning Bureau, Jiaxing Economic and Technological Development Zone (Jiaxing International Business District), Jiaxing Development and Reform Commission, Nanhu District People's Government, Jiaxing Housing and Urban-Rural Development Bureau, Jiaxing Transport Bureau

承办单位:嘉兴经济技术开发区(嘉兴国际商务区)
Organizer: Jiaxing Economic and Technological Development Zone (Jiaxing International Business District)


公告附件1--应征须知
Attachment 1--Instructions for Application
公告附件2--资格预审文件参考格式
Attachment 2--Reference of Prequalification Application File

点击下载附件
Please click to download